"It could have been so much worse"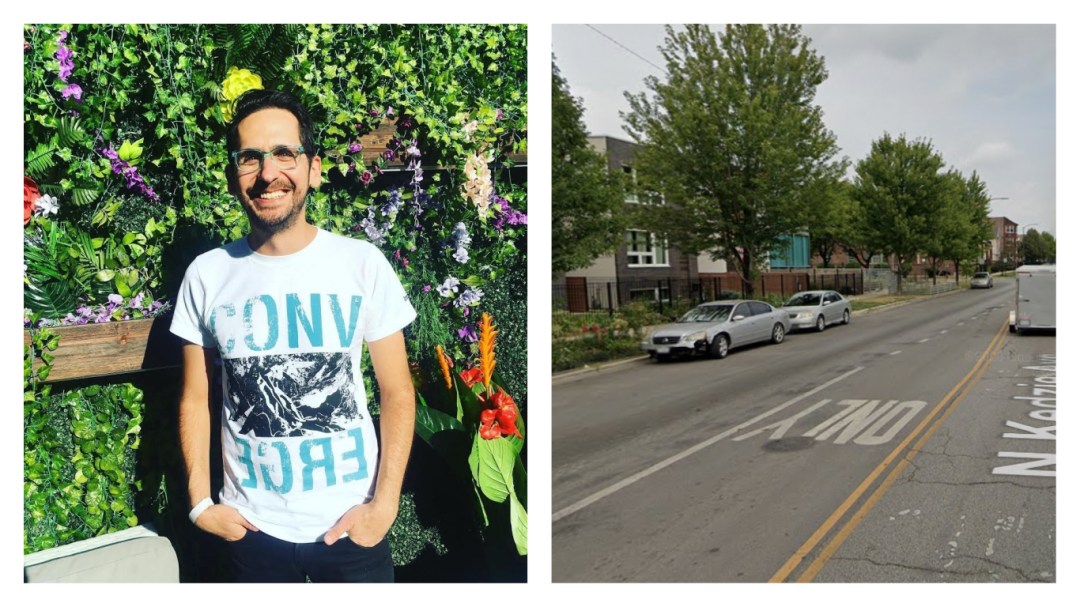 HUMBOLDT PARK — Scott Morrow was on his way to a friend's house during the Puerto Rican Parade festivities when he felt something hit him in the back. Then, "radiant pain".
Morrow passed out. Area police found the 41-year-old music writer lying in the grass with a gunshot wound to his back. Instead of hanging out at his friend's apartment, Morrow spent the next few days fighting for his life.
Police say Morrow was shot just before 1 a.m. on June 20. After a minor traffic accident near the 1200 block of North Kedzie Avenue, someone shot a 28-year-old woman driving one of the cars, hitting her in the head, police said. One of the shots also hit Morrow as he walked down the sidewalk. The woman was taken to Stroger Hospital in critical condition, while Morrow was taken to Mount Sinai.
Morrow said his mind raced as he tried to stay awake in the ambulance.
"I kept thinking about all the family and friends I didn't want to leave behind, and all the things I have left to do: 'I'm working on an album. I can't die until until this album is finished. And stupid stuff like "I can't die until I see Justin Fields on the field for the Bears" – I'm just trying to focus on whatever I'm looking forward to and to think of my mother," he said. .
Morrow spent six days in hospital and returned twice due to complications. Doctors removed his spleen, left kidney and part of his pancreas. They also repaired holes in his stomach and diaphragm.
He faces a long recovery. For the rest of his life, Morrow has to take an antibiotic and go to the emergency room whenever he has a fever of 101 degrees or higher. Because he no longer has a spleen, he risks a bacterial infection if his fever reaches a certain level.
Despite this, Morrow said he should be able to live a "pretty normal life" barring further complications. Compared to other shooting victims, Morrow considers himself "very lucky".
"It could have been a lot worse," he said. "The bullet came quite close to my spine. I could be paralyzed right now. It could have hit my heart or my aorta.
"The sad reality is that this stuff happens all the time"
Morrow has lived in Logan Square for eight years. He works full time as a proofreader in a marketing agency, but music is his passion.
For years he was an active member of the local music scene in Chicago and the suburb of Glen Ellyn, where he spent most of his childhood. He has also written independent music for various local publications, including Alarm Magazine, Consequence of Sound and the Chicago Reader. More recently he has focused on his own music. he is working on a solo electronic rock record under the name Plutocracy Planet.
On the night of the shoot, Morrow listened to music on his headphones as Puerto Rican parade celebrations unfolded with people hanging out on the sidewalk and waving flags out of their cars. He said he didn't hear or see anything out of the ordinary that would indicate he was about to be shot.
"I was just trying to make my way through the crowded sidewalk," he said.
The police have not made any arrests in this case. Detectives are investigating. Officials could not provide more information about the 28-year-old's condition on Wednesday.
Morrow and the woman were two of many people shot dead in Humboldt Park over the weekend. The Tribune found that 14 people were shot within blocks of the Puerto Rican parade.
Among the victims were young parents Gyovanny Arzuaga, 24, and Yasmin Perez, 25.
Similar to what happened to Morrow and the 28-year-old, the couple were involved in a minor car accident. Then a group ambushed them and a gunman executed Arzuaga in a crime that was caught on camera and stunned the town. Amid the chaos, it appears Arzuaga accidentally shot Perez, police said.
As Morrow recovers at his parents' home in the western suburbs, he said he can't help but feel survivor's guilt, especially as friends and family rally to provide financial support to his medical care and recovery.
An online fundraiser for Morrow raised more than $20,000 on Wednesday night. Some of his friends also host a fundraiser in his honor at GMan Tavern in Wrigleyville, where they regularly host shows.
"I feel very lucky to have a really amazing support system: family, friends and friends of friends. I'm very grateful, but I also feel very sad for the people who are going through this every day and who don't don't have the same support systems," he said. "I wish I could do more, the city could do more, everybody could do, to stop this stuff from happening. "
Soon, Morrow plans to resume recording his first solo album. Despite the traumatic incident, he said he has no plans to leave his apartment in Logan Square or the city anytime soon.
"The sad reality is that these kinds of things happen all the time. It's usually confined to a handful of areas, but it happens anywhere," he said.
Subscribe to Block Club Chicago. Every penny we earn funds neighborhoods across Chicago.
Already subscribed? Click here to support Block Club with a tax-deductible donation.