'I have to see it all': Denver music writer G. Brown, an industry pioneer | Denver Gazette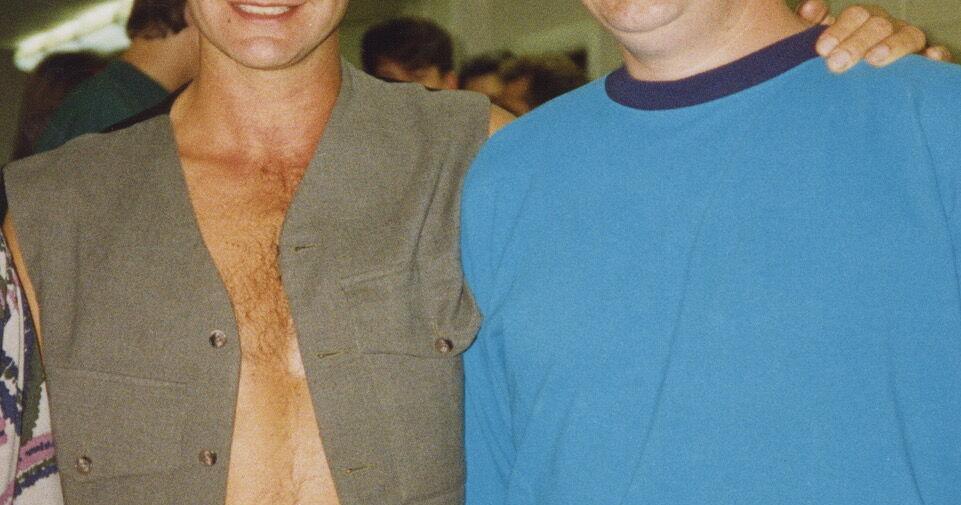 G. Brown is a man of 3,248 stories (and at least as many bad jokes). That's how many music personalities he's interviewed during his 26-year career as a pop music writer for The Denver Post.
Brown can tell you about the time in 1978 when he had a chance encounter with Bruce Springsteen on an otherwise empty Los Angeles sidewalk. Brown, then still a student at the University of Colorado at Boulder, drove 6 miles to an appointment at CBS Records because he didn't have enough change in his pocket for the bus ticket. Springsteen was taking a break from recording that day and just wanted to walk around a town where, apparently, only broke college students and the Jersey Boys walk anywhere. A friendly chat ensued before The Boss got back to work on an album which turned out to be "Darkness on the Edge of Town".
"I was hoping for 'Born to Walk,'" Brown says now. (Rimshot.)
He can tell you about the time in the early 1970s when he saw a young Bonnie Raitt perform at Tulagi in Boulder, then pick up a broom and help the crew clean up the bar. And he can tell you about the time he saw The Police play Rainbow Music Hall for $3 in 1979 — and chatting with Sting when he was just a guy traveling across the country in a van with two friends. (Thirty years later, people eagerly paid $250 to see the reunion tour.)
Brown was part of a golden age in daily music coverage that coincided with an explosion of growth in the recording industry – and they fed on each other. For the first time, newspapers were hiring writers to cover pop music as an actual beat. Brown made his pitch to cover music for the Denver Post in 1977 while still a sophomore at CU — and his Genesis band profile landed him the gig.
At the same time, record labels were releasing mega-albums like Fleetwood Mac's "Rumours," sending their artists on tour to sell them, and offering superstar interviews to enthusiastic regional beat writers as part of the marketing machinery.
It placed Brown and about two dozen other daily reporters in some of the most envied — and respected — jobs in music journalism. Even Huey Lewis says so.
"I've always thought that music journalists in major daily newspapers were more credible than others, if only for the fact that they saw and heard so much more music than anyone else," said Lewis. "G. Brown proves my point with his 'On Record' books.
Lewis was commenting in support of Brown's ongoing series of 21 elegantly designed coffee table books that each take a 350-page encyclopedic look at a year of popular music from 1978 to 1998 through the albums that have been released. Not only did Brown have access to almost every rising active and unknown superstar in the industry, but he received each new release in advance, along with the accompanying press kit.
And he kept it all.
We're talking about 50 banker's boxes in his basement filled with albums, cassettes, CDs, press notes and the holy grail: the often hilarious (in retrospect) official press publicity photos that accompanied every release and show up now as a kind of tape-by musical time capsule. Brown's collection has survived four moves thanks in particular to the benevolence of a woman he calls "Saint Bridget".
"I just had this collector's gene," said Brown, who grew up in Arvada collecting Denver Broncos stamps, coins, baseball cards and Coca-Cola bottle caps. So from the start of his career as a journalist, he somehow knew how to back up every press kit he received from musical acts spanning pop, rock, country, punk, grunge, R&B, rap and more.
"I just felt there was value to them," he said. "I didn't know what it was at the time."
He does now.
Brown is having the best time of his life organizing his treasure trove into a definitive look at these pivotal years in music history. Each volume presents most of the major album releases in the form of a double-page spread: one for those irresistibly funny publicity photos; the other for a tight 300-word essay by Brown that incorporates quotes from key band members he interviewed at the time. He even includes an epilogue covering albums by artists he couldn't talk to – so he leaves no groove unscathed.
"These books have a nostalgic component that is undeniable, and they also have value as reference works," Brown said. "But I'm extremely proud that the essays aren't just first-person commentaries on what it all meant. It's a simple report about a band talking about a given release in a given year.
Brown publishes the books, edited by Jon Rizzi and designed by Kate Glassner Brainerd, through a cultural and educational nonprofit he founded, The Colorado Music Experience. To date, three books in the series, which are not published chronologically, are published and available on colomusic.org: 1978 (think Billy Joel, The Cars and Devo), 1984 (think Prince, Joe Jackson and "The Curly Shuffle"). ) and 1991 (think Garth Brooks, Hammer and Nirvana). Brown hopes to continue creating a new tome every three months until the work is complete.
Together, Brown says the series represents a unique archive of music history that doesn't exist in the same way anywhere else. Perhaps because none of his national colleagues had as much foresight — or basement space — as Brown.
"I think the show is a celebration of the era of durable goods when we care about album art and liner notes and an album's release date," Brown said, "because that it meant you could go to a record store and actually get it and hold it. It doesn't exist anymore."
Brown wrote for The Denver Post until 2003, but he consciously ended his book series in 1998 because he saw that year as a line in the sand between eras in the recording industry. "That's when Shawn Fanning came along with Napster, and that was the start of everything that went digital," he said. "That's when everything changed in the recording industry."
And in music journalism. Brown barely recognizes the landscape today, now that nearly all of those battered jobs that were once done by specialists in specific disciplines have been lumped together into a general entertainment reporter (if any) desperately tasked with covering music, television, film, theater and fine arts. arts at once. The idea of ​​a job in a daily dedicated to chatting with three or four popular music stars a week is now unthinkable. Brown knows how badly he got it.
"I was lucky enough to write for a major daily newspaper when newspapers meant something," he said. "I was able to cover the beat as a journalist, using my journalism. I have to cover it in a unique way.
"And I have to see everything."
Denver Gazette contributing arts columnist John Moore is an award-winning journalist who was named one of the 10 Most Influential Theater Critics by American Theater Magazine. He now produces freelance journalism through his own company, Moore Media.